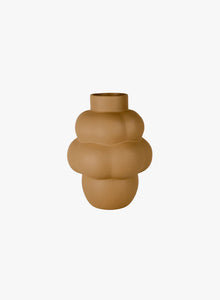 DETAILS: 
Brand l LOUISE ROE COPENHAGEN
Product name l BALLOON VASE 04 PETIT Sanded Ocker 
Color l Sanded Ocker  
Measurements(cm) I Size: Ø6-12 H22 cm
Material l Ceramic / Handmade 
This piece is another take on the iconic Balloon Vase, however now in a ceramic glaze. Its tactile exterior differentiates itself from the originally soft glass impression. Hand-molded in Portugal, each object is unique and displays its own character, which we greatly admire.  
The Balloon Vase 04 can be elegantly complimented by a bouquet of flowers, however, it is characteristically also a stand-alone monumental piece of art.
The Sanded Ocker, possessing a brownish yellow colour, epitomises a natural and earthy undertone. The perfect touch to a simplistic setting.
CARE
Kindly be aware that condensation might happen, so never place directly on delicate surfaces. 
Please note, this is an unglazed finish and can therefore be prone to finger prints or markings during transport. These can all easily be removed with water, dishwasher soap and a soft sponge.
This is a handmade product. This means that small differences in color and shape. We think this is the charm of the handmade craft.
Louise Roe holds a degree in fashion and concept development. Her hands-on experience in the fashion industry has made her comfortable with production processes from idea to final product, and appreciative when it comes to the art of mastering a craft. All items in Louise Roe's collections are made from honest materials manufactured in Europe by skilled independent craftspeople who have mastered their profession throughout generations. Louise Roe, the design company, was founded in 2010. In 2018 the Louise Roe Gallery, including a cafe, opened its doors in central Copenhagen. 
 * L'Atelier Glöd [라뜰리에 글로드] 는 덴마크 루이스로 코펜하겐의 국내 최초 공식 수입/판매처입니다. 
* L'Atelier Glöd [라뜰리에 글로드]  아트 앤 오브제 라이프 스타일 갤러리로, 유럽의 미술관과 재단, 브랜드 하우스에서 제작된 오리지널 아트 및 디자인 오브제를 소개합니다. 
NOTICE 
[사용 및 보관상 주의사항]
*표면이 매트한 도자기의 특성상, 손자국 등을 유의해 주시기 바랍니다. 혹시 이물질이 묻었을경우, 물이나, 솝, 스폰지등을 이용해 지워질 수 있습니다. 
[수공예 도자기 특징] 
핸드메이드, 핸드페인팅 특성상 무늬, 형태, 크기, 색상, 질감에 미세한 차이가 있습니다.                                                                                                                   
유약의 흐름자국이나, 유약의 두께에 차이가 있을 수 있습니다.
가마 소성 과정에서 기포가 빠져나간 자국, 유약의 무늬 등이 표면에 나타날 수 있습니다.
DELIVERY [배송]

출고지 : 라뜰리에 글로드 유럽 물류센터 - 독일 프랑크푸르트 
배송 방법 : 항공 배송후, 국내 우체국 택배
관부가세 - 소비자가격에 포함 
배송 기간 : 항공배송 5-7일 (주문 후 1일이내 발송기준 -주말,공휴일제외) 
개인통관번호 필수로 기재바람.     
배송비 : 무료

               

 RETURN & REFUND [교환 및 환불]
1.  상품의 실제 색상과 질감을 최대한 담지만, 모니터의 해상도나 밝기에 따라, 촬영 환경에 따라, 실제와 다르게 보일 수 있습니다. 이와 같은 사유로 교환 및 환불이 불가합니다. 
2. 수공예 도자기 특징(상기 내용 참고)상 발생할 수 있는 부분에 대해 교환 및 환불의 사유가 될 수 없으니 수공예 도자기 구입시에는 주의를 부탁드립니다. 
3. 단순변심 및 개인의 실수로 인한 손상 및 변형 등은 반품이나 교환/환불이 불가합니다. 
4. 배송 중 파손이나, 상품의 자체적 결함이 있는 경우에는 개봉당시에 사진과 함께 3일 이내에 연락주시기 바랍니다. 
5. 교환 및 환불의 사유에 해당하는 경우 홈페이지 상단 Contact Us 로 연락주시기 바랍니다. 확인 후 가능여부를 답변드립니다. 
6. 교환 제품은 최초 수령일로 부터 5일 이내 반송 부탁드리며, 발송시 동일한 택배사 (우체국)을 통해 반송하는것을 기본으로 하며, 왕복 택배비용 8,000원이 발생합니다. 
7. 사용 흔적이 있거나 제품의 손상이 있는 경우에는 교환/환불이 취소됩니다. 
Product Care 

The hand-painted outer surface should only be cleaned using a soft cloth, if needed add a small amount of water on the cloth and gently wipe the dirty area. It's important that you wipe the vase completely dry afterward.
We recommend that you store the product in its original packaging when not displayed, to prevent damages while in storage.

The inside of the vase is glazed to hold water, but as ceramics is a porous material we recommend that you let the vase dry between usage from time to time.